Cost of Dental Implants Valdosta
Dental implants are widely considered the very best means of replacing lost teeth and supporting restorations like crowns and dentures. Unfortunately, dental implants are typically classified as an elective procedure, and rarely covered by insurance. It is important to have a good understanding of the cost of dental implants, and our team, serving patients throughout Valdosta, can provide you with an accurate idea of the price tag this restorative procedure might carry in your case. Meanwhile, it is very important to understand the many benefits dental implants that make it a worthwhile investment. To learn more, please contact us today and schedule a consultation.
What Determines the Cost of Dental Implants?
There are three primary factors that influence the overall cost of dental implants. First, the total cost of restoration increases with the number of implants needed. A single tooth will require one dental implant, while restoring an entire smile could require eight or more dental implants. Second, a bone graft may be necessary before implants can be placed. In the absence of tooth roots, the jaw will begin to atrophy, or shrink, as the body resorbs bone cells and distributes them elsewhere in the body. If you have waited a long time to address a missing tooth, you may need a bone graft in order to provide an adequate foundation for the implant. Finally, the restorations you choose to complement your dental implants will also influence the total cost of restoration. For example, a partial bridge replacing three consecutive teeth will cost less than a full set of dentures. The very surest way to understand what restoration using dental implants might cost is to schedule a consultation with our dentists.
As Dependable as Natural Teeth
Dental implants are an excellent investment for anyone missing teeth, but are especially beneficial to those who wear dentures. Conventional dentures rest on the gums, held in place with a mild adhesive. However, they are prone to slip while eating or speaking, which can limit food options and make patients feel self-conscious about speaking. But with dental implants, you can chew and speak with complete confidence. Many patients feel that the quality of life that dental implants provide make them well worth the cost.
The Long-term Benefits of Dental Implants
Modern crowns, bridges and dentures are crafted from custom-prepared porcelain that is specifically designed to be durable while looking like natural teeth. But because they have no true foundation in the jaw, they cannot help you retain bone mass that is lost in the absence of tooth roots. Choosing dental implants to support your restorations can help you maintain a healthy jaw, and your ability to chew and speak properly.
Learn More about the Cost of Dental Implants
If you are missing teeth, and would like to learn more about what it might cost to rebuild your smile using dental implants, we are glad to answer your questions. Contact us today to schedule a one-on-one consultation with one of our dentists.
Related Dental Implant Articles
Dental Implants – Your Third Set of Teeth
A discovery fifty years ago paved the way for one of dentistry's most exciting, natural looking and successful tooth replacement systems. Learn how dental implants might just possibly change your life... Read Article
The Hidden Consequences of Losing Teeth
For those missing even one tooth, an unsightly gap is actually the least significant problem. What's of far greater concern is the bone loss that inevitably follows tooth loss. Dental implants fused to the jawbone can preserve bone, improve function and enhance psychological well-being. Learn how implants serve both as anchors to support replacement teeth, and preserve bone as one of the better preventive maintenance procedures in dentistry... Read Article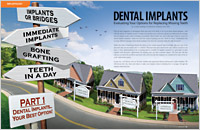 Dental Implants - Evaluating Your Options for Replacing Missing Teeth
As we guide you through the marketing hype you'll see that well planned implants most often require a team approach in assessing whether they're right for you. Not only are they a better treatment choice, they will last longer, possibly a lifetime, making them the right choice and the most cost effective option long term... Read Article
Implant Overdentures for the Lower Jaw
Implant overdentures represent a major change for the dental profession and the public. The lower jaw two-implant overdenture may be considered a more appropriate starting point over regular dentures... Read Article