Restore Your Smile with a Dental Crown
If your tooth is damaged or decayed, it should be treated and repaired as soon as possible to avoid serious oral health issues or even tooth loss.
At Advanced Dental Care in Valdosta, GA, our doctors can provide life-like dental crowns which blend seamlessly with your smile while strengthening your tooth. We can also provide implant-supported crowns to replace a tooth.
Why are dental crowns a popular restorative treatment?
Dental Crown Candidacy
Crowns are typically recommended if a tooth is significantly damaged, but not necessarily in need of extraction. Preservation of natural tissue is always the priority in dentistry, and a crown is a solution that allows you to keep a compromised tooth that would be otherwise unable to contribute to the balance and function of your bite.
If a single tooth is lost, an implant-supported crown can provide many benefits over dental bridges for the right candidates. The jaw will begin to change in size and shape after tooth loss, but implants can stop - and, to a small degree, reverse - this reaction. If you are a non-smoker who has not experienced significant jaw atrophy, this solution may be right for you.
In some cases, a crown can be used to cover a misshapen or severely discolored tooth for an aesthetic enhancement.
Crowns are a simple concept that can provide significant benefits to your health and your confidence when provided by an experienced dentist.
The Crown Placement Process
Before placing a dental crown, we will treat any oral health conditions such as decay or gum disease with root canal therapy or periodontal care.
Next, we will prepare your tooth to receive the crown. This process involves removing small amounts of enamel so your crown fits properly. We will take impressions of the tooth and send them to our trusted laboratory to design your new restoration.
A crown is a solution that allows you to keep a compromised tooth that would be otherwise unable to contribute to the balance and function of your bite.
While you wait for your crown to return from the lab, we will provide a temporary restoration to protect your tooth. Once your crown is ready - usually after about two weeks - your dentist will check its fit and appearance. If no adjustments are necessary, your dentist will bond the crown to your tooth using a strong adhesive.
Implant-Supported Crowns
A dental implant-supported crown will require undergoing two surgical procedures. During the first, a dental implant will be inserted into the jawbone at the site of the lost tooth. The gums will be sutured closed over the implant to facilitate healing. Over the next four to six months, the implant will become integrated with the bone tissue.
Once this process is complete, you will undergo a minor second surgery in which the gums are incised and the implant is fitted with an abutment piece that will connect with the crown. The gums are sutured in a manner that leaves the abutment exposed above the gumline. Once the gums have healed, we can begin crafting your crown.
Related Dental Crown Articles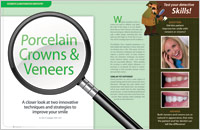 Porcelain Crowns & Veneers
A closer look at two innovative techniques and strategies to improve your smile. In many instances these two restorative techniques can produce nearly identical esthetic results, even though they are structurally different... Read Article
Value Of Quality Care
Are all crowns created equal? One of the most important factors adding to cost is the quality of the crown itself. Another fact is that dentists generally sub-contract out crown manufacturing to a dental laboratory technician, as they rarely make crowns themselves... Read Article
Creating In-Office Dental Restorations With Computers
Once upon a time, dentists - and patients - needed to wait weeks for a dental laboratory to make crowns and other dental restorations. Now, with an exciting digital technology known as Computer-Aided Design/Computer-Aided Manufacturing (CAD/CAM), some dentists are fabricating high-quality restorations themselves right in their own offices - in minutes! Read Article