Stains are the most common cosmetic dental imperfection, resulting from dark-colored foods and beverages, genetics, age, and other factors. Unlike many other issues, excellent dental hygiene can't always effectively prevent them from occurring. With both in-office and take-home teeth whitening options available at our office serving patients throughout Valdosta, you can eliminate deep dental stains and restore a youthful luster to your smile without having to take a substantial amount of time out of your schedule. Contact us today to learn more.
Zoom!® In Our Office, or At Your Home
The Zoom!® teeth whitening system is one of the most popular and effective professional smile brightening systems today. This fast, powerful whitening treatment can be performed in about an hour, providing dazzling and immediate results. Zoom!® utilizes a unique whitening gel, which we apply evenly over the surfaces of a patient's teeth. Next, the effects of the whitening gel are intensified by a special LED light, eradicating surface stains and brightening teeth by up to eight shades. Zoom!® also comes in a convenient take-home kit that provides similar results in as little as three days. The kit includes custom-made mouthpieces that evenly distribute whitening gel over the surfaces of your teeth to help you achieve the dazzling smile you desire in the convenience of your home.
Opalescence® Whitening, Whenever it Suits You
In-office teeth whitening can often be completed in the span of a lunch hour. However, many of our patients prefer to brighten their smiles at a more leisurely pace, and can do so from the comfort of their own homes with our Opalescence® take-home teeth whitening kits. Each kit is custom-designed, and contains a set of whitening trays that fit specifically over the patient's teeth. The trays allow you to evenly apply the whitening gel. When used as directed, Opalescence® can dramatically improve the brightness of your smile in 10 to 14 days. Once treatment is completed, you can keep the trays and use them to touch up your smile in the future with additional whitening gel from our office.
Treating Intrinsic Stains
While professional teeth whitening is highly successful at treating surface (extrinsic) stains, not all tooth discoloration occurs at the surface. A tooth's color is largely dictated by the dentin underneath the clear enamel. Certain medications, an underlying dental or systemic disease, or a root canal can cause intrinsic (internal) tooth discoloration that may require a treatment such as porcelain veneers to conceal. After a comprehensive examination, we can determine the source of your dental stains and help you choose an appropriate course of treatment.
KoR Whitening - Deep Bleaching System
The KöR Whitening Deep Bleaching™ System is a clinically-developed and a teeth tested whitening method that is able to improve upon many of the unresolved problems of older systems, including: impermanence, failure to correct deep intrinsic staining (such as tetracycline stains) and sensitivity. We are always looking for ways to improve our services and the KöR teeth whitening system has exceeded the results of previous systems used in our practice. The KöR System also claims to provide two dramatic benefits, unheard of with other systems. One, KöR claims to be able to whiten tetracycline stains and two, KöR bleaching results claim to be permanent. Case studies seem to confirm these results – thanks to another KöR innovation–the superior fit of its custom mouth tray. The tight seal of the tray once positioned on the teeth, alongside the increased potency and decreased sensitivity of the gel, produce an easier-to-wear, harder-working at-home bleaching period than with most other systems. Our research and clinical results seems to support the claims made by the KoR Deep Bleaching Whitening System. While it isn't the least expensive method on the market today, if you want one of the whitest possible results, or if you have special whitening needs – such as hyper-sensitivity issues or deep staining – or simply want an innovative and well-documented whitening system – this may just be the solution for you. If you are serious about teeth whitening please give us a call. We have completed the research, tested the products for you and are ready to share with you what we have learned.
Take the First Step toward a Brighter Smile
Dental stains, whether intrinsic or extrinsic, can significantly impact the appearance of your smile, as well as your confidence. To learn which teeth whitening option is right for you, contact us as soon as possible to schedule a consultation. Our treatments can help you achieve a bright smile that you can be proud to share with everyone around you.
Related Teeth Whitening Articles
Teeth Whitening – Brighter, lighter, whiter...
The subconscious impact of a white smile is radiant health, happiness, warmth and invitation. This phenomenon has been reinforced with the spread of American culture worldwide, where an especially white smile has even been coined a "Hollywood smile." Today brighter, lighter, whiter teeth have become a norm. Tooth whitening by bleaching is a successful, conservative, relatively inexpensive and safe alternative... Read Article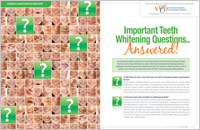 Important Teeth Whitening Questions Answered!
In Dear Doctor's interview with nationally noted teeth-whitening expert Dr. Van B. Haywood, he answers questions about bleaching techniques and safety in achieving the best possible results. If you are thinking about getting your teeth whitened at your dentist's office or doing it yourself at home, this is a must-read... Read Article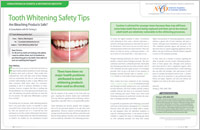 Tooth Whitening Safety Tips
There have been no major health problems attributed to tooth whitening products when used as directed. Many studies have confirmed this, and we will share some of these findings with you... Read Article