Your smile is a very significant part of your appearance. Have you ever wondered how you might look with an entirely new smile that complemented all your best features? A smile makeover is a customized, comprehensive combination of procedures to give you the unforgettable smile you've always wanted. You can learn more about creating your smile makeover at our office serving patients throughout Valdosta. Contact us today to schedule your one-on-one smile makeover consultation.
First Step: How Healthy is Your Smile?
Before proceeding with any cosmetic dentistry treatments, we always conduct a thorough examination of a patient's teeth and gums to ensure that the smile has a healthy foundation. After all, no matter how great a smile looks, its appearance cannot be maintained unless the gums and tooth roots are in excellent health. If your dentist detects any underlying health issues during your health exam, your options for addressing those issues will be fully explained, and together, you can create a treatment plan that will set the stage for enhanced dental aesthetics in the future.
Planning a Smile Makeover
In order to plan the precise combination of treatments that will be included in your smile makeover, your dentist will first listen closely to your goals. Whether you wish to achieve a natural-looking overall enhancement, or achieve an immaculate smile that is ready for a red carpet event, your dentist will make recommendations based on the smile you envision. For instance, many patients choose to combine gum contouring and porcelain veneers, creating an attractive new frame for the smile while concealing minor imperfections. In almost all instances, teeth whitening precedes veneers and crowns. This allows the dentist to create your veneer or crown to match the newly rejuvenated shade of your smile, helping you to achieve a dazzling overall enhancement.
Another important factor considered in the planning of your smile makeover is your smile line. The smile line refers to the curvature of your bottom lip while smiling, which should be matched by your top teeth in a similar curve. Weighing this along with your specific goals will help determine precisely which treatments your smile makeover should include. Contact us today to learn more about how we can craft a custom smile makeover for you.
What is Included in a Smile Makeover?
A smile makeover can include any combination of cosmetic or restorative treatments, such as:
Dental bonding
Gum contouring
Schedule a Smile Makeover Consultation Today
At Advanced Dental Care, our goal is to help create and maintain healthy, beautiful smiles for all of our patients. To help make it easier for patients to achieve the smiles they deserve, we offer discounts for combining more than one procedure as part of your treatment. Don't wait any longer to achieve the dazzling smile you have always wanted. To learn more about how to improve the appearance of your smile with a customized smile makeover, schedule a consultation today.
Related Smile Makeover Articles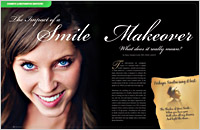 The Impact of a Smile Makeover
Americans are catching on to the emotional and social importance of a healthy, beautiful smile, and they're seeking out ways to improve their smiles. Learn why and what a change could mean for you... Read Article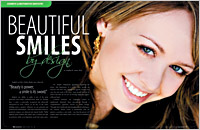 Beautiful Smiles by Design
The first in a series of articles dedicated to the "art and science" of designing a more appealing smile. One of the country's foremost leaders in cosmetic dentistry discusses how you and your dentist partner to create a great new look... Read Article