Do you feel self-conscious about minor imperfections in your smile? Porcelain veneers, available at our office serving patients throughout Valdosta, are custom porcelain shells that can conceal cracks, chips, discoloration, and other issues while complementing your entire smile. To learn more about how porcelain veneers can help you look and feel your very best, contact us today.
What Porcelain Veneers Do
Porcelain veneers are custom-crafted to attach to the front surface of one or more teeth, providing an outward appearance of symmetry and health. Porcelain veneers can effectively conceal:
Intrinsic (internal) teeth stains and discoloration, which often results from root canal therapy and other treatments
Visibly worn teeth
Chipped or cracked teeth that don't require root canal treatment or dental crowns
Slightly misaligned or misshapen teeth
Odd spacing that causes unsightly gaps between teeth
If the issues affecting the appearance of your smile are purely cosmetic, and do not compromise the health or function of your smile, you may be an excellent candidate for porcelain veneers. The surest way to determine if porcelain veneers are a good way to meet your cosmetic goals is to schedule a consultation with our doctors.
The Many Advantages of Porcelain Veneers
The porcelain used for veneers is also commonly used to craft dental crowns, bridges, and dentures. This sophisticated material can closely mimic the color and shine of healthy tooth structure and enamel. Meanwhile, they are durable. Many patients are pleasantly surprised to discover how a single veneer can complement the entire smile, creating an instantly improved appearance.
Placing Porcelain Veneers
To accommodate porcelain veneers, we must first prepare the tooth by removing a minimal amount of tooth enamel from the front surface, roughly equal in thickness to an egg shell. Before preparation, we will administer local anesthesia to numb the teeth and surrounding tissues. For patients who experience anxiety in the dentist's chair, we may recommend oral sedation or nitrous oxide (laughing gas) to help achieve relaxation during the procedure. Once the teeth are prepared, we will make an impression, which will be sent to our trusted offsite dental lab to guide the fabrication of the veneers, ensuring they fit precisely within your smile. The final porcelain veneers are usually ready within two to four weeks, although in some cases, they can be rushed for an additional fee. We can provide temporary veneers while you await your permanent veneers. Depending upon your goals, you may consider combining your dental veneers with a treatment like teeth whitening or gum contouring to maximize your results.
Schedule a Cosmetic Dental Consultation Today
Excellent dental hygiene, regular professional care, and maintenance help prevent some of the most destructive dental issues from forming. Unfortunately, many cosmetic issues can develop in spite of a patient's best efforts, and can significantly impact the appearance of a smile. To find out how porcelain veneers can transform your smile, or to learn more about any of our other cosmetic dentistry options, please contact us today.
Related Porcelain Veneer Articles
Smile Design Enhanced with Porcelain Veneers
In part two of the series on Smile Design, Dear Doctor takes an in-depth look at Porcelain Veneers, a superior yet minimally invasive technique for smile enhancement. We'll explain not only when they're appropriate, but also when they're not... Read Article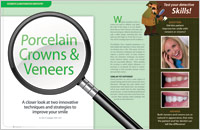 Porcelain Crowns & Veneers
A closer look at two innovative techniques and strategies to improve your smile. In many instances these two restorative techniques can produce nearly identical esthetic results, even though they are structurally different... Read Article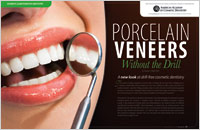 Porcelain Veneers – Without A Drill
No drilling — reality or ridiculous? A no-drill technique requires a second look, as new materials and concepts have created new esthetic possibilities. Reactions and opinions among dentists have ranged from absolute disbelief to moderate acceptance. This article gives hope and reasons for patients to get excited about this conservative drill-free cosmetic technique... Read Article