Restoring and Replacing Teeth
Dental Crowns Valdosta
---
When a tooth is compromised by trauma or decay, it can't repair itself like bones or other parts of the body. To preserve the tooth and avoid the need for tooth extraction, Drs. Moorman and Woodward often use dental crowns, available at our office serving patients throughout Valdosta, to support the tooth and restore function to the smile overall. As a fabricated replica of a tooth's top portion, a dental crown can serve a wide variety of purposes. Meanwhile, dental bridges, or partial dentures, can be used to replace lost teeth. To learn more about how crowns and bridges can benefit you, contact us today.
Like Shields for Teeth
Modern dental crowns are crafted to mimic the look and feel of natural teeth. The porcelain used to create them is tinted to the exact color of a patient's teeth, and the material is specially layered to reflect light in the same manner as tooth enamel. The result is a replica of the visible part of a tooth that is virtually indistinguishable from the real thing. Cracked and fractured teeth, or teeth that have had some of their structure removed to eradicate tooth decay, can become too weak to function without causing further damage. Dental crowns fit completely over the afflicted tooth to prevent pressure from damaging it further.
Bridging Gaps in Your Smile
Dental crowns can also anchor a dental bridge, which is designed to replace a lost tooth, or a few lost teeth in a row. Some patients choose to secure a dental bridge to one or more dental implants, which are prosthetic tooth roots that are surgically implanted into the jawbone. If a patient is missing a single tooth, a crown can be used to restore a single dental implant, completing the smile. Dental implants are considered an excellent investment in your oral health, since they provide support equal to that of natural tooth roots, and can help you retain bone mass in your jaw. Contact us today to learn more about this advanced solution.
Placing Dental Crowns and Bridges
To accommodate a dental crown, a small amount of the tooth structure is removed, allowing the crown to fit comfortably while retaining enough healthy tooth structure for it to grasp. Local anesthesia is usually used to numb the tooth during preparation. Once the tooth is prepared, your dentist will take an impression, which will be sent to an offsite lab. In about two to four weeks, your restoration will be complete (in the meantime, you will be given a temporary restoration to wear). You will return for a second appointment, and your dentist will permanently place your crown or bridge.
Restore Your Smile Today
Dental crowns and bridges have helped many of our patients find renewed confidence and improved quality of life by restoring the appearance and function of their smiles. To learn more how dental crowns or a dental bridge can help you, schedule a consultation with us today.
Related Bridgework Articles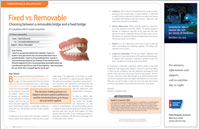 Fixed vs. Removable
For those patients who have lost all their teeth, but have not lost significant bone, a fixed bridge (permanent non-removable teeth) may be the treatment of choice since the new bridge is not needed for facial and lip support. However, not all patients are candidates for this treatment... Read Article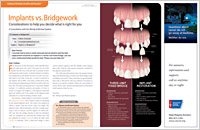 Implants vs. Bridgework
Considerations to help you decide what is right for you. However, a discussion with your dentist is necessary to discuss your specific situation. Please see your dentist to review all the risks, benefits and alternatives to determine which option is best for you... Read Article
Related Dental Crown Articles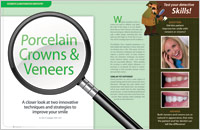 Porcelain Crowns & Veneers
A closer look at two innovative techniques and strategies to improve your smile. In many instances these two restorative techniques can produce nearly identical esthetic results, even though they are structurally different... Read Article
Value Of Quality Care
Are all crowns created equal? One of the most important factors adding to cost is the quality of the crown itself. Another fact is that dentists generally sub-contract out crown manufacturing to a dental laboratory technician, as they rarely make crowns themselves... Read Article
Creating In-Office Dental Restorations With Computers
Once upon a time, dentists - and patients - needed to wait weeks for a dental laboratory to make crowns and other dental restorations. Now, with an exciting digital technology known as Computer-Aided Design/Computer-Aided Manufacturing (CAD/CAM), some dentists are fabricating high-quality restorations themselves right in their own offices - in minutes! Read Article