Dental crowns are often referred to as caps, as they fit over the top of a tooth to restore both form and function to your smile. Crowns are an effective and versatile treatment for smiles compromised by chips, cracks, or decay. At Advanced Dental Care in Valdosta, GA, Drs. W. Ashley Moorman, J. Barclay Woodward, and Bill Moorman can design and place highly aesthetic and lifelike crowns that blend seamlessly into your smile. We can also facilitate the replacement of a single tooth with an implant-supported crown.
Dental Crowns and What They Can Do
Typically made of porcelain or another highly aesthetic material, crowns cover a damaged tooth or dental implant to restore the function and aesthetics of a smile. There are a variety of issues that crowns can treat. This versatile restoration can:
Protect a weak tooth
Restore a broken or severely worn tooth
Adjust a misaligned bite
Cover and support a tooth after root canal therapy
Support a dental bridge
Restore a dental implant
Dental crowns are typically used for restorative purposes. However, in some cases, a crown can cover a misshapen or severely discolored tooth for a more aesthetic appearance.
The Crown Placement Process
To decide if a dental crown is right for you, a member of our team will first perform an examination to determine the underlying cause of the tooth damage. Then we will take a series of x-rays to assess the health of the remaining tooth and supporting structures. If you decide to move forward with a dental crown, we will first treat any oral health conditions such as decay or gum disease with root canal therapy or periodontal care.
Next, we will prepare your tooth to receive the crown. This process involves removing small amounts of enamel so your crown fits comfortably in your smile without appearing bulky. Then we will take impressions and send them to our trusted laboratory to design your new restoration.
While you wait for your crown to return from the lab, we may fit you with a temporary restoration to protect your altered tooth. The typical wait time is one to two weeks. Once your crown is ready, your dentist will check the fit and appearance. If no adjustments are necessary, they will bond the crown to your tooth using a strong adhesive.
Implant-Supported Crowns
For patients missing a single tooth, an implant-supported crown can provide a long-lasting and lifelike solution. A dental implant is a small titanium post embedded into the jaw to act as an artificial tooth root. Implant-supported restorations are unique because they replace the entire structure of the tooth and protect the jawbone against tissue degeneration due to tooth loss. In addition to traditional crowns, the team at Advanced Dental Care can restore dental implants with highly aesthetic, natural-looking crowns.
Protect Your Oral Health
When you have a tooth compromised by damage or decay, you are vulnerable to more severe oral health concerns. Dental crowns can strengthen a tooth and protect against excessive wear on surrounding teeth and supporting structures. If you are interested in learning more about crowns or the other forms of restorative dentistry we offer, contact our office online or call us at (229) 242-4441 to schedule a consultation today.
Related Dental Crown Articles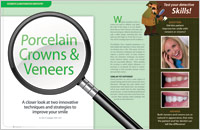 Porcelain Crowns & Veneers
A closer look at two innovative techniques and strategies to improve your smile. In many instances these two restorative techniques can produce nearly identical esthetic results, even though they are structurally different... Read Article
Value Of Quality Care
Are all crowns created equal? One of the most important factors adding to cost is the quality of the crown itself. Another fact is that dentists generally sub-contract out crown manufacturing to a dental laboratory technician, as they rarely make crowns themselves... Read Article
Creating In-Office Dental Restorations With Computers
Once upon a time, dentists - and patients - needed to wait weeks for a dental laboratory to make crowns and other dental restorations. Now, with an exciting digital technology known as Computer-Aided Design/Computer-Aided Manufacturing (CAD/CAM), some dentists are fabricating high-quality restorations themselves right in their own offices - in minutes! Read Article